For a successful house sale/apartment sale, it should be possible to present the property optimally at the home viewing day, because the first impression of the property is often decisive for potential home buyers. There is only one chance as the first impression for the home seller; therefore the sufficient preparations must be made in order to ensure a successful real estate sale in the long-run.
1. Selling property: What is the best way to advertise the sale of a property?
The more extensive an advertising campaign is, usually the better the results it will achieve. On the other hand, more advertising naturally indicates more time, energy and costs.
Of course, it is important that the exposé is prepared in detail. An attractive and high-quality exposé will significantly appeal to more potential parties.
Checklist - Possibilities to advertise a property
Online advertising strategy
Internet portals

Social media
Offline advertising strategy
Newspaper ads

Sales signs

Neighborhood letters/direct contacts

Flyer
Online advertising strategy:
1) Internet portals
Nowadays, the Internet portals are the basis of every property search. It displays and simplifies all important information at a glance. The contents of different portals can also be shared directly online, which can reach a very wide-range of customers.
Advantages: wide coverage, long-term advertising, flexible forms of advertisement, videos, texts, photos, etc.
Disadvantages: No first personal contact
Offline advertising strategies:
1) Newspaper ads
Newspapers provide wide-range coverage compared with flyers. For example, they inform as many potential home buyers as possible about the first and most important key data of a property and subsequently, create an opportunity for gathering further information. However, newspapers only cover a certain part of the population. Therefore, this should be taken into account carefully to make a wise choice.
Advantages: Data protection, specific target group (especially older people)
Disadvantages: Limited coverage, fewer audiences, expensive, short-term advertising, one-sided display
2) Sales signs
Potential customers may notice the real estate offer by passing by the object for sales, so it is very important that a sales sign should target the right group directly and should not be overlooked. At the same time, potential home buyers can immediately experience a first impression of the property.
Advantages: cost-effective, targeted environment
Disadvantages: less private, lower coverage
3) Neighborhood letters / Direct contacts
Normally, potential home buyers directly look around their interested areas. This means there is a high possibility that a potential home buyer is looking for a new property nearby. However, this method is naturally associated with more efforts.
Advantages: cost-efficient, direct approach
Disadvantages: Limited coverage
4) Flyer
Potential home buyers can also be generated by flyer advertising with longer distance from the property. It is possible to distribute meaningful flyers at various locations and therefore attract attentions from interested buyers. The flyer consists of a detailed exposé of the property in order to trigger a large number of inquiries due to the depth of information.
Advantages: Accessible to various locations, detailed display of from and information
Disadvantages: Time-consuming, undefined target group, short-term advertisement
5) Other advertising possibilities
Vehicle, television and radio advertising, Facebook, Twitter, Instagram, newsletter, etc. are also possible advertising methods.
KBC Real Estate offers you an individual combination of all possible advertising strategies both, online and offline in three different languages (English, German, and Chinese).
Throughout many years of experience in the housing market, KBC Real Estate has a wide-range of customer base from different countries, especially real estate investors from China. Based on your needs and wishes, we will create an individual and combined advertising strategy for you, so that you will be able to get the maximum profit from your property. Would you like to develop the right advertising strategy without spending too much time? We are always at your disposal!
2. House/apartment inspection: How do I achieve an optimal display?
The most important things at a glance
Proper care for your property, both inside and outside

Preparation for the necessary documents

Preparation for the possible questions during the house/apartment inspection

Proper care for your property, both inside and outside
It is important that the property for sale must be presented in a clean condition and there should be no unnecessary objects lying around. According to experts, the selling price can be increased by 5 to 15 percent. In order to be able to show the potential home buyers, who visit, an object as attractive as possible, owners of the house should consider the following:
The outside area:
1) Sidewalk/footpath and exterior facade: Weeds, green cover or wild growth on concrete surfaces and paved paths should be removed. Possible tripping hazards, especially on paths or stairs, should be removed. This can be done by repairing banisters or steps.
2) Entrance area: Especially during the darker season a good and functioning lighting is important. Details such as the doorbell, mailbox or even the name plate should look clean and attractive.
3) Veranda, terrace, loggia, outdoor sitting area: The overall picture can be made more appealing with flower boxes or plants. The health condition of the plants and flowers as well as the overall condition of the area should be taken care of.
4) Green area/garden: The lawn should be mowed and dark areas should be reseeded. Hedges and perennials should be cut into shape and the weeds or foliage in green areas should be cleared.
5) Covered pitch: Broken or weathered components such as leaking roof or chipping paint should be replaced or repaired.
6) Inner courtyard/patio: Unnecessary stuff, especially private accessories should be removed or put away. Unsightly objects such as garbage cans should preferably be stored in the garage or behind a suitable covering.
The interior:
1) Generally appliances: Cleanliness and a well-kept condition give a good impression. Therefore, the windows should be cleaned without streaks and all curtains should be freshly washed. The natural daylight coming through the opened curtains and roller blinds can make a bright and friendly impression. With natural daylight, rooms not only look more attractive but also larger.
2) Decoration, personal items: Private items and accessories such as photos or personal decoration items should be removed before the house inspection in order to give a neutral impression.
3) Living room and bedroom: In order to make the room look larger, heavy pieces of furniture should be minimized. By opening curtains, the room with light could look larger. Decoration accessories such as an ironing board should also be stored away. Beautiful bedspreads can enhance the view of beds even better.
4) Dining area and kitchen: If the kitchen is sold with equipment, you should pay attention to cleanliness of all cupboards, shelves, and drawers. The surfaces should be in perfect condition. The fronts and work surfaces as well as electrical and household appliances such as the oven or refrigerator should be thoroughly cleaned.
5) Bathroom/guest WC: Particular attention should be paid to cleanliness, especially in the sanitary facilities. Attention should be paid to the removal of dirt, soap residues or lime deposits. Older shower curtains and toilet seats are preferably to be replaced with newer and cleaner pieces. To prevent unpleasant smell, the room should be well ventilated. Use neutral room fragrances.
6) Storage/cellar rooms: Furniture or toys should also be removed from here. If the storage rooms are tidy, they will look larger. Dirt and spider webs in the cellar or attic should be removed and ensure good lighting in the rooms. The access to the supply boxes (water, electricity, gas) must be free.
7) Pets Keeping: Food remains, crumbs and chewing bones can cause unpleasant smell and should be removed. Also animal hair on upholstery or carpets can immediately show unkempt. Scratch marks on walls or floors should also be taken care of.
Preparation for the necessary documents:
Although digital information communication is common, most potential home buyers expect to be able to have the information about the property in their hands when viewing the property. The owner should comply with this wish. KBC Real Estate recommends the following paper documents to be prepared:
Land register

Floor plans

Power and pipeline circuits diagram

Energy performance certificate

Renovation and refurbishment documents including invoices
If you have any problems with the preparation of the above-mentioned documents, KBC will always be happy to support you and provide you with professional services.
Preparation for the possible questions during the house/apartment inspection:
Interaction is inevitable. For example, the communication between buyer and seller can be decisive for the result of a property transaction. Therefore, it is indispensable that the owner conscientiously prepares for possible questions from potential customers.
Necessary preparation:
Why are you selling your property?

The direction and location of the house should be evident from the documents.

Which educational institutions - from kindergarden to university - are located nearby?

Where are commercial areas, supermarkets and grocery stores located?

Where are green areas, such as parks or even children's playgrounds?

How is the public transportation? Is there a direct access to bus and train?
Additionally, the following questions are also strongly recommended to be answered by the home seller:
Are there humid problems in the house? Is there possibly even mould visible? Are there any other visible and invisible defects?

Have pest control already been implemented? Are there any pests in the house that damage the building fabric?

Are there any unauthorized extensions or expansions that could lead to legal issues?

Are there any special leases or leasing contracts?
KBC Real Estate offers professional advice and supports you in preparing all relevant questions regarding the sell/purchase of a property in order to make the home selling process easier for you.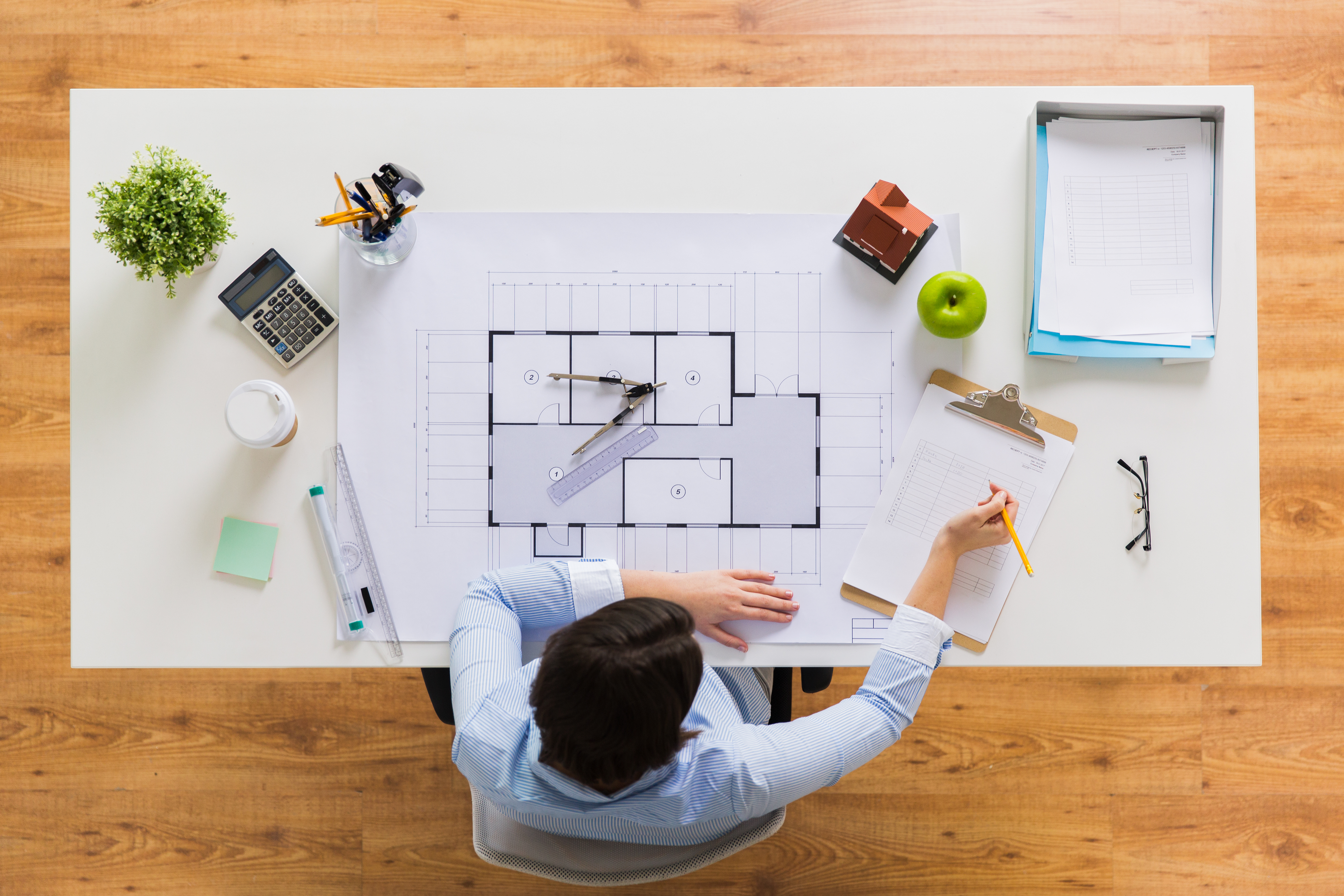 3. Home viewing appointments for selling a house/apartment: What do I have to consider?
What types of visits are there and which one do I offer?
Basically, the professionals distinguish between two types of home viewing: individual viewing and mass viewing. Especially due to Corona, online home viewing has been added, which we do not refer to in detail here. Which type of home viewing is preferred depends on the time schedule and the needs of the potential home buyer.
Individual viewing: As the name suggests, an individual appointment is made with each potential home buyer to present the property to him/her individually.
Mass viewing: In principle, it is conceivable that several potential home buyers are guided through the property at the same time. However, we also talk about a mass viewing, such as all potential home buyers are guided through the property throughout one day.
Individual viewing: Since a property sale is related to a large amount of money, a serious potential customer will always prefer an individual appointment which is not time-limited from the beginning. The questions are unpredictable and they will arise at any time during the home viewing; the home seller therefore has to spare enough time for home viewing appointment.
Mass viewing: In addition to the individual viewing mentioned above, mass viewing can also be a solution for the home seller due to limited time concern. However, it can become a stress if there are many viewers in the property at the same time or timeframe between two appointments is too short. Some cases show that the objects were missing or damaged after mass viewings. Most importantly, some serious potential home buyers may feel extremely disturbed by the hustle and bustle, and therefore the chance of building desired emotional bond with them will be missed.
What we learn from experiences - our tips for you:
If there are only few people interested in the property, you have to be very careful with every single applicant since there may not be an opportunity for a pre-selection. However, this is not common in the urban area since there are always a lot of interested buyers. Therefore, if you do not have a mature pre-selection system, you will need to spend much more time for this home selling process. If you do not receive sufficient detailed information from applicants, you can ignore them from the pre-selection list. There are some intentional people who simply visit property just for fun in the housing market that you should definitely give up this chance. As mentioned, we prefer individual viewing appointment. You should also spare enough time for viewing and avoid showing your time pressure to potential viewers if you are forced to go through several appointments in one day.
What should you pay attention to when viewing the apartment?
Fix appointments for home viewing

Important factor: daylight

Rented property – find dates

Upgrade your house for sale

Viewing without stress - time for questions

Honesty is the best
Fix appointments for home viewing
There are some concerns that should be considered when fixing an appointment date for home viewing and inspection. If you are selling your own property where you are living, you have everything on hands. The situation is different if you want to sell your rented property because you will have to find a suitable appointment for your tenant and the interested home buyer.
Important factor: daylight
When selling properties, a small detail can make a difference between success and failure. Success can already be ensured by the right time of day when the inspection takes place because daylight has a decisive influence on the effect of rooms. Whether bathroom, kitchen or living room: the brightness that comes in through the windows from outside makes for much more attractive views than artificial light. Even if this does not have direct impact on the potential customers, this will affect the feeling of viewers subconsciously. As a home seller, you should notice that the time with high traffic noise may negatively impact on viewers; the appointment therefore during this timeframe should be avoided.
Rented property - arrange dates
As mentioned above, when selling a rented property, you must arrange home viewing appointments with the potential tenants. This naturally means that the tenants must be informed regarding each home viewing. A glance at the currently valid tenancy law shows that the tenant may not be refused to enter his apartment for the purpose of selling it. However, you must offer alternative dates if the dates you suggest are not feasible for your tenant. In order to find the balance, it is always advisable to find a solution that is acceptable to all parties. Above all, the tenants should know what to expect and how many appointments will possibly be necessary. In this way, the current tenants will also present a tidy apartment. Undoubtedly, the tenants should ensure their valuables safely or lock them away during a home viewing appointment. According to the valid right for the inspection, potential customers are allowed to make photos or videos. Therefore, the privacy of the tenants should be paid particular attention.
Upgrade your house for sale
Everybody knows that emotions play an important role in purchasing behavior. As a home seller, you should present your property in its best condition. When conducting a home viewing appointment, you should proceed as following a script. This can differ from object to object. If there are many attractive rooms to present, you don't have to worry about it too much. Besides, the home seller should pick out specific focal points that he/she would like to focus on during the home viewing. Thus, weak points can also be transferred more easily. If you want to have your property professionally upgraded, you can call in a home staging specialist (external link) to visually upgrade your house so that it performs the best possible first impression. If you don't want to deal with all these things on your own, you can consult a real estate agent who knows all the possibilities of how to handle a house sale professionally.
Home viewing without stress - time for questions
If you want to sell home by yourself, you should not underestimate the time required. Valuable potential home buyers need more time for the inspection because they are actually interested in the building or apartment. You should be well prepared for some additional questions from serious potential home buyers. This requires a more detailed knowledge from you. For example: It will create a negative impression for potential home buyers if you are not able to provide information regarding gas or oil consumption. You should also be able to explain all renovation measures, etc. Therefore, you should avoid any time pressure.
Honesty is the best
Every property has strengths and weaknesses, some have more or less major defects. For the person who tries to sell a property, it is a responsibility to reveal the defects instead of concealing them. All problems must be addressed openly and honestly, because this relates to liability issues. If the home seller fails to mention defects such as mould infestation or covers up a damp cellar, he/she will face liability problems later on. Thus, it is strongly recommended to formulate a defect list together from both parties which is taken to the sales contract. However, you will be legally protected if you decide to work with a real estate agent, since they will arrange everything in such a way that you will not have any problems after signing the real estate purchase contract.
4. Selling property: check potential home buyers
KBC Real Estate will check the potential home buyers for you before an inspection date is set.
Four important points for qualification:
Reason for buying a house - Cultural aspects

Sort out onlookers

Ensure solvency capability

Indemnification/preliminary contract
1) Reason for buying a house - cultural aspects:
Without a doubt, communication with the home buyers is an important key point. Therefore, it is recommended to find out the purpose of buying a house in advance. The nationality of the potential home buyer can provide information on whether communication difficulties may arise or whether cultural conflicts may arise. If the investment is on a considerable scale, aspects such as migration background and the planned education of the children must also play a role for the buyer.
2) Sort out onlookers:
Supposed potential home buyers who want to visit real estate out of pure curiosity can be sorted out by a good preparatory work. It will spend too much time for everyone involved, including the serious potential home buyer, the property salesman or even the real estate agent.
3) Ensure solvency capability:
One task that should not be underestimated is to make an initial assessment on whether the credit required by the potential home buyer could even be within reach. Documents such as a self-disclosure and a confirmation of financing from the bank are indispensable for this.
4) Compensation / Pre-contract:
If a potential buyer expresses a serious interest in buying and the candidate is also a potential seller, there are two possibilities to reserve the property for a certain period of time. On the other hand, there is the possibility for both buyer and seller to propose a preliminary contract before the actual purchase contract. Both parties commit themselves to complete the main contract with each other at a later date. Thus, the seller receives the warranty of the buyer to actually acquire the real estate, whereas the buyer gets the security to be able to acquire the real estate also accordingly. Normally such a preliminary contract is notarized.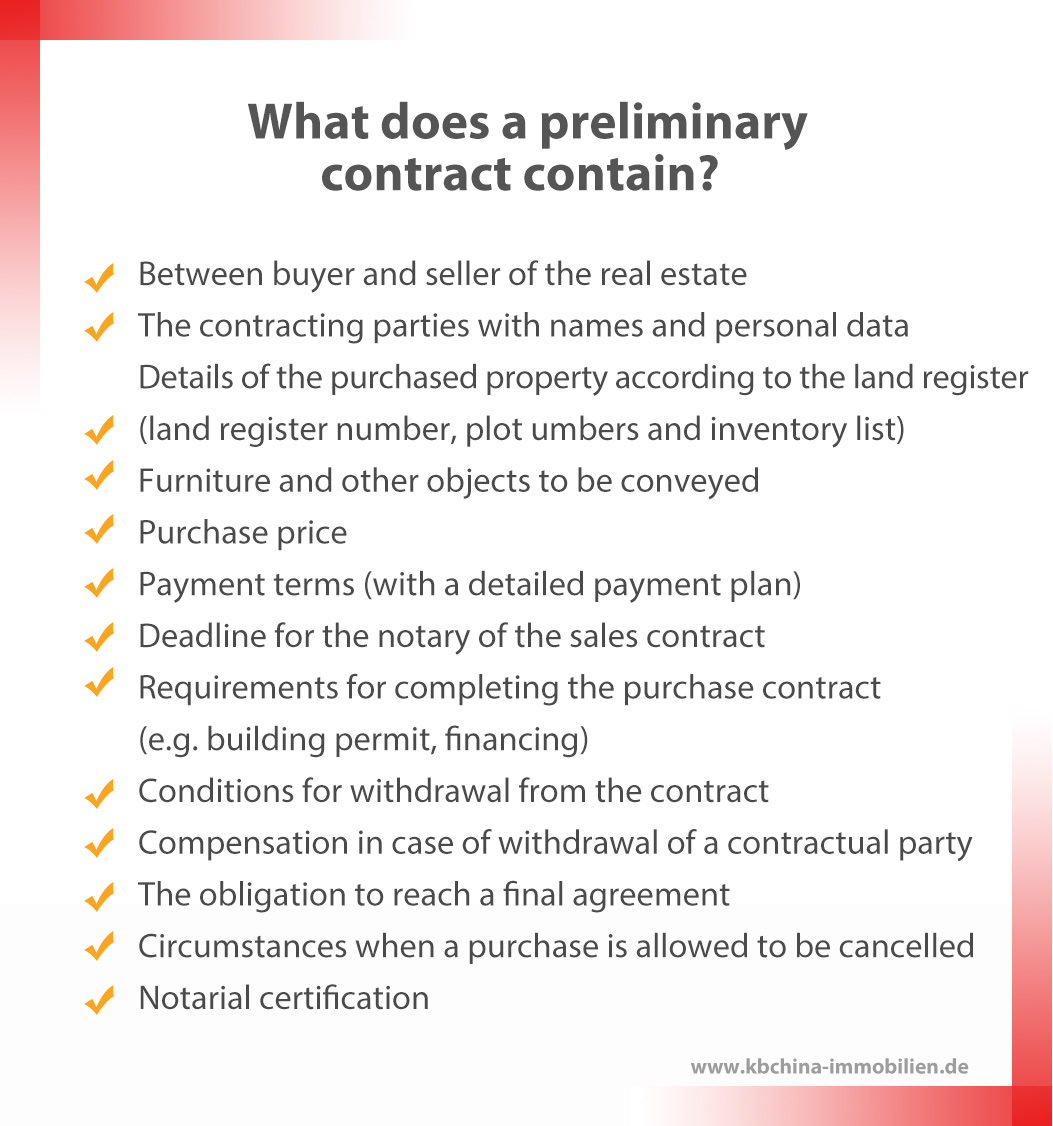 The other possibility can arise if a real estate agent is involved in the sales process. The so-called reservation agreement is completed between the real estate agent and the buyer. The real estate agent assures the buyer to reserve the property for a certain period of time and not to offer it to any other interested party during this time. In return, the real estate agent receives a reservation fee. This fee is normally deducted from the broker's commission if a purchase contract is completed.